We had never been more afraid to ask our community a question, and we've asked you A LOT of tough questions since we've started community topics. We've asked for you to decide on the best mascara, the best lipstick, the best shampoo....but this one? This one was personal. This one we thought might actually start a riot in the streets.
Which Glossier Balm Dotcom—between cherry, birthday, coconut, rose, mango, mint, original, and now grape—is the best?
We know that for some of you, this question was akin to choosing your favorite child or parent or dog breed. Impossible! Unthinkable! Inconceivable! But we asked it anyway because we love to stir the pot. ¯\ (ツ)/¯ And yes, fine, we also wanted to know what our community loves the most. Your choices were not in vain; we ranked them according to your review submissions and we finally have an answer. Here are all eight of Glossier's Balm Dotcom flavors ranked, according to your submissions.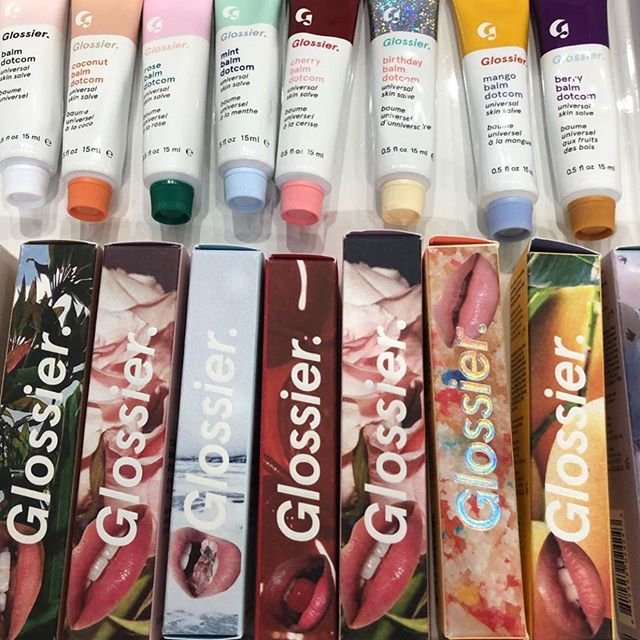 Instagram @glossier
1. Mango
Mango took first place by a landslide. Our SGers loved the tropical scent and flavor, made even better when mixed with coconut. But unlike coconut, mango has a slight yellowish-pink tint reminiscent of a sunset in paradise.
2. Berry
Berry is the newest flavor and already it made it to the top as number two in the rankings. Berry is also perhaps the most pigmented flavor with a deep purplish tint like mashed blackberries.
3. Rose
The romantic flavor of rose came in third with half a dozen votes. The barely-there light pink tint add just a touch of color to kissably soft lips.
4. Cherry
Cherry came in fourth place, understandably. Years of taking cherry-flavored cough medicine ruins cherry flavored anything else, but the deep red tint is juicy!
5. Coconut
Coconut is one of the two flavored Balm Dotcoms with no tint. Perhaps coconut isn't the strongest flavor on its own, but when mixed with Mango reviewers seem to love it.
6. Mint
Mint is the other flavored Balm Dotcom with no tint. One SGer said it reminded her of toothpaste which she loves in the morning. It appears other SGers prefer to keep the mint flavor in the tube.
7. Birthday
Birthday is the only flavor with a little sparkle and our SG community doesn't seem to be a fan. This celebratory flavor nearly came in last place.
8. Original
Sadly, no one voted for original. We get it. You like flavor. But did you know original also doubles as a skin salve so you can heal more than just your chapped lips? We love a multipurpose product!
Watch more Glossier Balm Dotcom reviews
So there you have it. Of course, if you don't agree with the current hierarchy, it's not too late. Add a review of your favorite Balm Dotcom below and it could move up the ranks or if your favorite is at the top, add a review to help it maintain it's spot!