What were you doing when you were a junior in high school? We bet you weren't like Emily, in your kitchen mixing hyaluronic acid and squalane in order to make the perfect hydrating serum for your loyal customer base. If you were anything like us, the only time you entered the kitchen was to pour a bowl of cereal for dinner because you couldn't even make scrambled eggs.
While we can't speak to Emily's cooking, we can speak to her ability in making great skincare products. Her brand, which includes two serums, is called Eunoia, which comes from the Greek word εὔνοια, meaning "well mind" or "beautiful thinking." She counts several Supergreaters as her repeat clients, most notably Dena Smith, the creator of Leo Oil. "She was actually the first one to buy it," says Emily. "She's super supportive and cool. She just placed an order for the traveler bottle, it's a little sample size." Emily also happens to be a member of the SG community herself, and we knew her as a reviewer before we knew about her serums.
Emily was born and raised just outside of Cleveland, Ohio, and she is the youngest Founder we've ever interviewed (a title she will likely keep, unless a freshman starts a successful beauty brand sometime soon). She's also one of the most environmentally conscious, placing sustainability at the center of her brand's mission. This interview is more than enough proof of her wisdom well beyond her years.
Don't forget to enter our Instagram competition today to win your own bottle of Eunoia's new product, Butterfly Oil, and watch her review of her serum below.
On how she started the brand:
I started it at the end of summer last year, and it was when I was really getting into the Instagram skincare community. I was just thinking about what product is missing from my routine, and I thought a hydrating serum. And then I came up with ingredients and the name just kind of followed.
I was on Pinterest and I just saw the word Eunoia and I just took it and ran. I knew I wanted hyaluronic acid because I've read amazing things about it, and then I just looked up some good ingredients to hydrate your skin. I found squalane and evening primrose, I bought them and tried them and I really liked it.
On the first time she tried her product:
I actually think I let my mom try it first. And then I used it and we were both like, this is actually pretty nice. I didn't know of anything out there like it. So my mom wears it, and my sister-in-law, she's so obsessed and she's always buying new bottles. To spread the word I just used my Instagram, I posted on my story and I kind of hyped it like that.
On leading a double like as a high schooler and a beauty entrepreneur:
I don't think anyone really knows about like my cafes couture (Instagram) account either. Nobody really knows about this whole other side. It's kind of fun.
I don't think they're (her classmates) into skincare or makeup that much. I don't think they would understand it that much, they probably just use your typical brand from the drugstore.
On incorporating sustainability into her brand:
We do the resale program where you send back your bottles, so once you buy a bottle it's yours. You just keep refilling it and you don't throw it away. I'm also just trying to have everything I ship in to be native from post consumer materials, so it's not virgin material. I'm seeing in my room right now, and I have probably like fifteen to twenty of those pink Glossier pouches, which are so cute but I really don't need that many.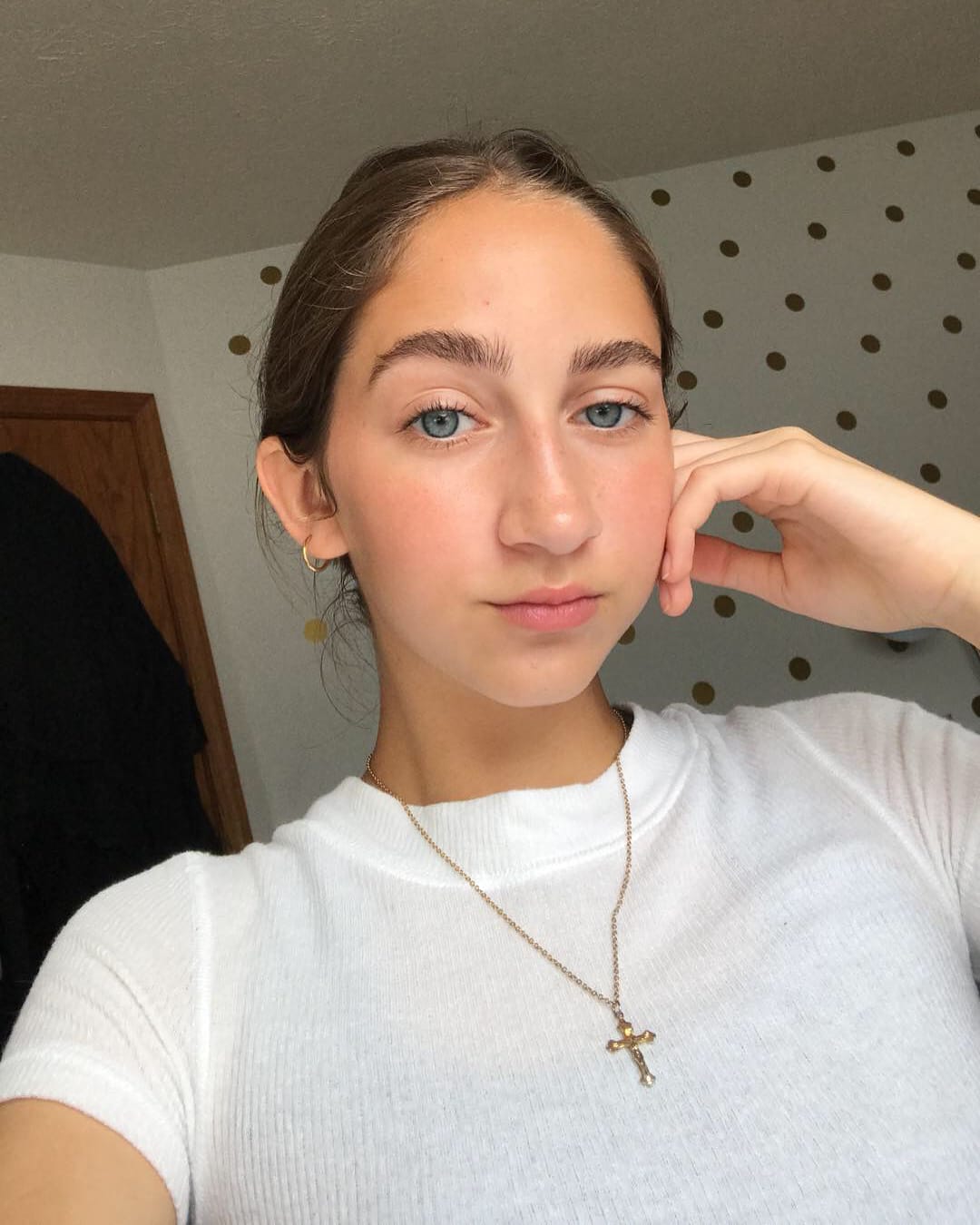 Instagram @cafes.couture
On her collective, the Sustainably Sexy Club:
The SSC is a place where we're hoping to show that being sustainable can be sexy and I think now more than ever people on Instagram have found that living a more sustainable lifestyle is easier and cooler than they ever thought. Also, since Butterfly Oil is a collaboration with SSC, $1.50 from each bottle sold goes to the SSC to fund giveaways and such for our followers. Another $1.50 is donated to a charity or program of our choice that helps make the earth cleaner or promotes sustainability in some way.
On how she makes her serum:
I have a little section in my kitchen that everyone in my family knows is Emily's section and not to go near it. I keep a lot of the ingredients in my room, because I don't want anyone touching them, but most of the time I don't really have extra ingredients. I just buy whatever I need, finish it up and then I repurchase them for the next batch when I need. I just all of it on a shelf because they're shelf stable.
On the ingredients:
Eunoia is hyaluronic acid, squalane oil, and evening primrose oil. And then there's also emulsifier in there because there's water, so you need an emulsifier because oil and water don't mix together. Then there's a preservative, so the water doesn't go rancid or anything.
Butterfly oil is just three oils; it's moringa oil, pomegranate seed oil, and grape seed oil, it's not exactly an equal ratio of each. There's no extra ingredients. It's definitely hydrating and moisturizing, but it's also a natural SPF in a way, because pomegranate seed oil and moringa oil both actually fight sun damage and free radicals in the air. So if you use it in the morning with your SPF, there's so many extra benefits.
On her personal skincare routine:
I would say my skin is combination, like my nose weirdly enough gets super dry and flaky and my forehead and chin get oily. I'll get a pimple every once in a while but its not all over.
I wash my face with Milky Jelly Cleanser and the new Milky Oil from Glossier. Sometimes I'm lazy and I just do one of them. I always use my reusable cotton pads. Then I use Glossier Solution or the Caudalie Vinoperfect Essence. I love everything Caudalie they're amazing. And then I use Eunoia serum, and sometimes I'll layer on top a Caudalie serum, the Vinoperfect Radiance serum. I just love layering stuff, it just works for my skin. Then I'll do Leo Oil, Butterfly oil, and then moisturizer. It's a lot, but it works. It doesn't make my skin crazy or anything. I also use Glossier Invisible Shield in the morning. It just reminds me of summer, because I wore it every day last summer and now it's starting to get warm again and it brings me back to the warm days because it's freezing in Ohio half the time.
This interview was edited and condensed for clarity. Watch your reviews of Eunoia below.